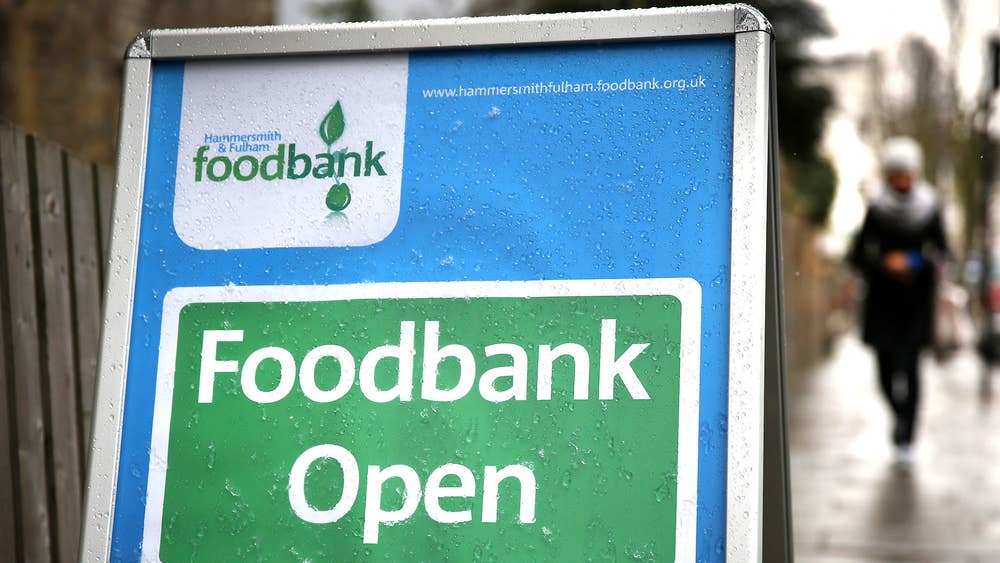 Food poverty is often globally associated with lower income countries. In the contemporary period wealthier nations such as the UK are starting to see growing national disparities. Food poverty is a critical growing issue in the UK as the era of austerity continues to squeeze those most vulnerable in society. Often many of these people rely on social security payments such as Universal Credit to survive; with support like this being continuously cut isn't food poverty inevitable? Coupled with ever rising costs of living and stagnating wages, the importance of the issue cannot be more emphasised.
What is food poverty?
Food Poverty, according to the Department of Health, is 'the inability to afford, or to have access to, food to make up a healthy diet'. Food poverty is a complex concept as it is not just associated with direct hunger but involves wider dynamics. The concept relates to the quality of food not just the quantity, with individuals being appropriately nourished to attain and maintain good health. Food poverty also impacts wider mental health in terms of depression, anxiety and stress resulting from not having enough money to buy the essentials. Combined with the increasing risk of obesity as cheap affordable foods tend to be processed and high in sugar and fat.
Food poverty within the UK is caused by a multitude of factors. The most obvious underlying cause revolves around financial hardship, relating to the price of healthy nutritious food and income; whether generated through a job or government support via social welfare benefits. Physical factors are also important as accessibility to shops, transportation and cooking facilities affect an individual's ability to feed themselves and their family. Social networks, knowledge and skills, cultural norms and unhealthy food marketing are similarly significant in further exacerbating food poverty.
Food Poverty Statistics…
The UK government does not measure food poverty explicitly unlike other countries such as the USA and Canada, which in its self has sparked debate. Thinktanks and charities such as Food Foundation and The Trussell Trust are filling the void by recording data. The use of foodbanks is a key indicator of food poverty as individuals do not explicitly describe or view themselves as in 'food poverty', as often it is a polarising concept. The Trussell Trust foodbank network distributed over 1.3 million three-day emergency food supplies to people in crisis between April 2017 and March 2018 which was a 13% increase on the previous year. 481,026 of these were for children. Therefore, annually more and more individuals are struggling and relying on support through foodbanks to be able to feed themselves and their families.
The relevance of Universal Credit…
Food poverty affects the most vulnerable people in society and it is often these individuals who are dependent on Universal Credit as a means to survive. The Conservative UK government introduced Universal Credit in 2013 as a new benefit to support people if they are working and on a low income or out of work. This social security payment was designed to simplify the benefit system, make it more efficient and encourage employment. It replaced six other tax credits and means-tested benefits and is received in a single monthly payment. The basic principles of the benefit reform in terms of its simplicity were widely acknowledged as necessary across the political spectrum, though it has been highly criticised especially from the claimants themselves.
Within the Trussell Trust report new national data highlights shockingly a growing proportion of foodbank referrals due to benefit levels not covering the costs of living, thus increasing the use and need for foodbanks. Being in receipt of benefits is now the single greatest reason for foodbank referrals, accounting for 28% which is an increase on the previous year and has been substantially rising over the last two years. Calling into question the adequacy of our current benefit system. Moreover, benefit delays and benefit changes accounted for the second and third primary reasons for foodbank referral, making up 24% and 18% respectively. Issues with Universal Credit surrounding the initial wait, absence of statutory support, poor administration and Universal Credits inability to cover the cost of living are having adverse impacts on some of the most vulnerable in our society.
It has to be acknowledged foodbank statistics like The Trussell Trust provide a snapshot into food poverty within the UK but do not show the complete picture. As other foodbank networks and mechanisms of support are not included in an overall figure as the UK government does not collect relevant data. Furthermore, unseen victims of food poverty who may not access foodbank support due to accessibility, shame or embarrassment and knowledge of available services are missing from these statistics. It is these individuals that are often the most vulnerable. These figures provide a foundation and are more than likely just the tip of an iceberg, indicating and fundamentally highlighting the scale of the issue.
Conclusion
It cannot be denied there is a growing food poverty crisis in the UK, though this post focused on the Trussell Trust, there is growing evidence from a multitude of sources about the scale of this contemporary issue. The fact that the UK government is increasing the dependance on foodbanks due to inadequacies in Universal Credit is shocking. More money should be made available to support these vulnerable individuals with benefits being in line with the rising cost of living. Simple changes in terms of a reduction in waiting times before the assessment period begins so that individuals do not have weeks with no source of income would make significant improvements. Coupled with more flexibility in the administration of Universal Credit supporting the diversity of people who have different levels of skills and knowledge. The UK government should follow other nation's lead and implement a national measure for food poverty which would allow the identification of key locations and groups, and therefore target resources and services accordingly to the people most in need.